For those people that have been searching for the right kind of diet that might fit in with a busy schedule or save you some time and effort that you want to channel into other more important things, take heart, because there is a convenient and easy solution.

This solution comes in the form of a very special way of dieting where, in place of preparing your own low calorie meals, this diet company does it for you.

Then to complete the total convenience angle, all of your meals are conveniently shipped to your home!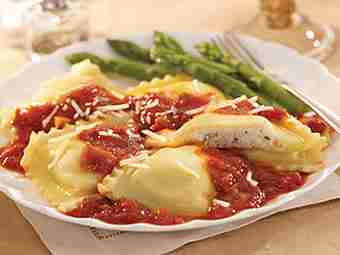 This is what is commonly known in dieting circles as a "meal replacement diet" or more simply, "diet meal delivery" and it's this particular form of losing weight that this article will focus on.

We will look at how this strategy works and how you can use it to help you to shed as many of those unwanted extra pounds that you are carrying around your waist (or thighs and hips) as you need to without breaking into a sweat!
Making Dieting Easy
The whole concept behind of this form of dieting program is to make things as easy and time saving as possible for the customer. It comes at something of a price, because there are certainly no free lunches here, literally, and no cutting the kind of corners that can free you from the kitchen.

However, the price you pay for this kind of service is offset against what you would normally spend on your weekly food shopping (including eating out), which for many of the programs available out there, it actually works out pretty cheap to lose weight in this way.

Also, by making it easy to lose weight, you are far more likely to stick to the diet for longer and give it a chance to work its magic and cause those excess pounds to drop off seemingly all by themselves! Keeping things simple frees you from the headache of having to keep complex food charts, weigh and measure food portions, count calories and count calories. Did I mention counting calories? Well you don't have to worry about any of that with this kind of program.
The Nuts and Bolts
Getting down to the nitty gritty of this system, the whole process from start to finish is made as simple as possible for customers to get their diets and start losing weight with the minimum of fuss. Here's how it works in a nutshell:

You first research a few diet delivery companies such as Nutrisystem, Medifast, eDiets, Diet to Go, Bistro MD, Jenny Craig (these companies deliver nationally across all mainland States) and also check if there are any local companies in your area that can cut a better deal than the nationals.

Find out which company program suits you best from the viewpoint of cost, kind of meals, quality of meals and personal nutritional preferences. For example, search out the best Nutrisystem reviews (like this review article for example) that you can find for that particular program.

Just for your convenience, I came across this recent video at Youtube that explains things about Nutrisystem:




That research is probably the hardest part of the process, by the way!

Once you have settled upon your best choice, check their website online and place your order. Most will have a phone option for those who prefer ordering that way.

It's usually easier on a website because you can see images of the meals and get their descriptions and have that information at your fingertips when ordering a customized diet menu, which most of the bigger companies will be happy to let you do.

Once you have worked out your personal menu and placed your order, you sit back a wait a few days for delivery. Once you have received your package, open it and check you have everything you ordered and read the instructions that come with it.

Then start eating! Breakfast, lunch, evening meal with a dessert and some companies also provide additional snack bars for between meals and it all comes in under a set calorie limit for each day that will cause your weight to decrease steadily and safely.
How Much Weight Should I Lose?
You should expect to lose around one to two pounds per week. This is the optimum safe amount recommended by most nutrition experts because it gives your body time to adjust to its declining weight safely and doesn't leave you feeling like you need to eat more as is the case with more rapid methods of weight loss.

Stick to the diet for as long as you need to lose all the weight you want to lose. Get in shape by eating in this structured way, and your body learns to eat less (smaller portions) and still be satisfied.

So when you stop the diet you can continue eating your normal food in smaller amounts and also keep those high calorie "bad" foods out of your eating plans for good. This is important to stop you gaining weight after the diet ends, which is something you really want to be sure of.

You can help yourself in other ways if you have a mind to, by getting some light exercise each day. But don't stress yourself on that as you can still lose weight just by eating the meals provided. It's just you will lose more weight and also tone up your body by exercising.

You must also make sure you drink plenty of plain water each day (NOT soda). That's because this helps with hydration and also reduces feelings of hunger between meals.

And that's about all you need to do! So what are you waiting for?

(TOP)